Bill & Susi your Hosts - Welcome!
BOOK ON-LINE SAVE $5.00
Re-kindle the Romance in your MARRIAGE: Check-in 3 PM, Check-out 11 AM.
Western Room, Premium Queen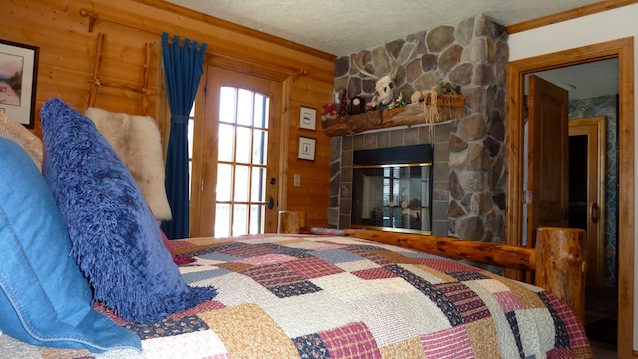 The bathroom for the Western Room has a GENEROUS 2 PERSON-jetted tub, sauna, and steam shower that rains down on you like a waterfall, relaxing you after a hard day of skiing, snowmobiling, golf, tennis, water skiing, or the like. As you and your loved one lounge in the tub you can enjoy the seductive ambience of the fireplace bringing warmth and good feelings, or, the same glow can be viewed from your bed in the other room.


| | |
| --- | --- |
| This warm and inviting room really appeals to the out of door type of personality looking for a Utah bed and breakfast.. The feel is mountain cabin with fireplace and a queen size log bed. The colors are rich and inviting. Accessories appeal to the fisherman, hunter, and cowboy types. Yet, the fluffy fat feather bed, down comforter, luxurious down pillows, and soft cotton robes and slippers has a fantastic draw on even the most feminine female. In addition your room has its own private balcony with a view of the Homestead golf course number 2 fairway. | |

Woodland Room, Premium Queen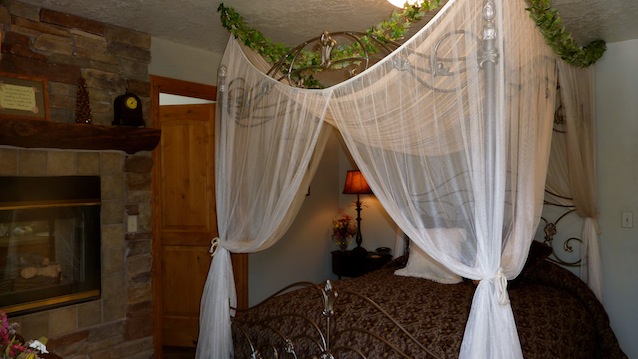 The bathroom is an extension of this wonderful outdoorsy feeling. The fireplace glows as you bathe in its soft light while relaxing in the oversized-jetted tub for two. The sauna and steam shower will loosen tight muscles and release toxins from your body after a hard day on the slopes, lakes, courts or courses. Ahhhhh, what could feel better!


| | |
| --- | --- |
| This woodsy, outdoorsy room has all the appeal and coolness of a fairytale grotto, yet, with its queensize bed and stacked rock fireplace, this Utah bed and breakfast has all the warmth and coziness that a snowy backdrop would demand. The charm of this room is felt in its ethereality, enhanced by the featherbed, down comforter, fluffy down pillows and soft cotton robes and slippers that will hug your body. Your balcony provides a wide-open view of the Wasatch Mountains and the Homestead golf course. | |
Old World Room, Premium King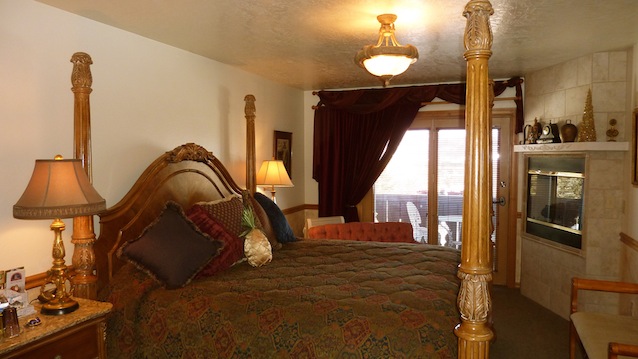 Old World charm four poster king-size bed and fireplace. Do you like to think that you are in the Swiss Alps overlooking an alpine valley while visiting this Utah bed and breakfast. Then you will enjoy this room with a view of our alpine valley and the Homestead golf course from your balcony. Snuggle in the warmth of your "way big bed" surrounded by clouds of feathers and down while basking in the glow of a cozy fire, wrapped in a soft cotton robe and slippers.

| | |
| --- | --- |
| Snuggle in the warmth of your "big bed" after a bathe by soft light in a GENEROUS 2 PERSON jetted-tub for two? Well, fluffy terry towels will await you on their warming racks as you disembark from your tub, steam shower or sensuous sauna. | |
Victorian Room, Premium Queen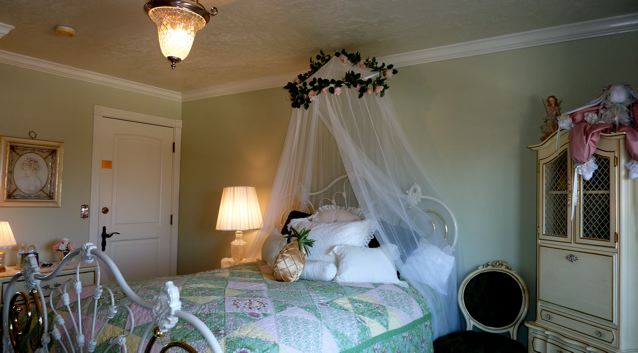 Turn of the century charm fills this Utah bed and breakfast room all over the place. Do you just love lace and flowers with lots of crystal, and porcelain accent pieces? Not understated but elegant, you will feel like you have gone back in time. The queen size brass and iron bed just beckons for you to plunge into its feather comfort and downy softness. Wrap yourself in the soft cotton robe and slippers and cozy in for an evening of warmth and plushiness while gazing out at the view of the valley from your balcony or snuggling to the glow of the fire.


| | |
| --- | --- |
| | Victorian elegance with modern convenience in the GENEROUS 2 PERSON jetted tub. Do you like to sauna and steam shower after spending hours on the courts, lakes, courses, or slopes? Then you will love being drenched in the glowing atmosphere of light from the fireplace and the luxury of these amenities. Fuzzy, fluffy terry towels on warming racks will greet you as you glide from one relaxing station to the other. |
An Exotic Oasis, Deluxe Queen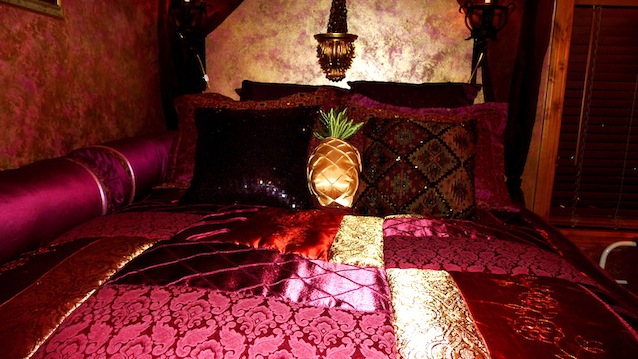 This very cozy room offers a private bath with lovely hand painted mosaic tiles, towel warmer, steam shower, fireplace, featherbed, and down comforter. Be aware the size of this room does not allow a Sauna or 2 person tub. This room will truly make you feel as though you are in the Sultans tent. No gift Certificates

Imagine yourself in some exotic far-off place such as India or Morocco surrounded in shimmering shades of deep plum, magenta, purple, olive and gold. Your Utah bed and breakfast queen bed is draped in a romantic sheer canopy and seems to float off the floor like a magic carpet ride.


Sun Room
Enjoy a Latte or Our World Famous Hot Chocolate in the Sun Room while reading the morning paper. Also join us for afternoon Tea-Time served with cookies. And in the Evening, relax and watch a movie while enjoying fresh made Popcorn with real butter!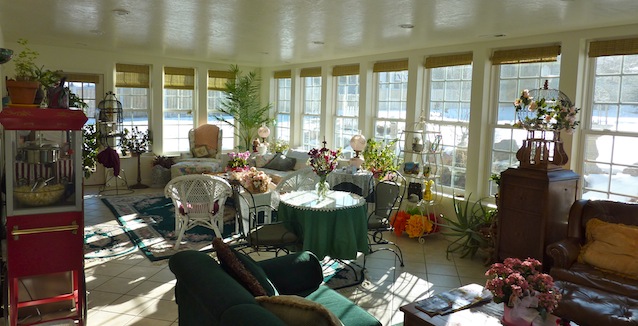 Living Room
You are invited to feel at home - Unwind, relax or snuggle up in our luxurious living room. Read, play cards or take a nap or whatever suits your fancy!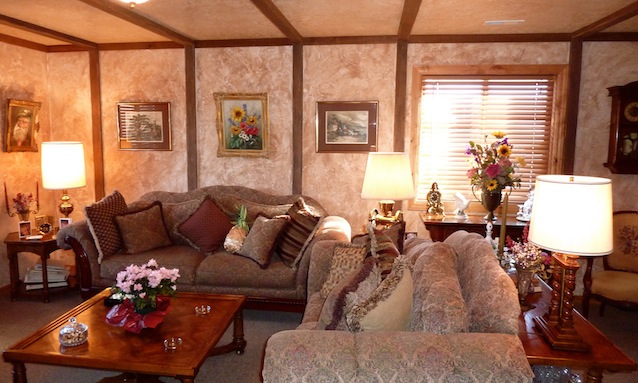 Breakfast Parlor
Awaken to our World Famous German Pancakes and many other Home-made European and American breakfasts served in our Scandinavian dinning room where you'll feel like a Prince or Princes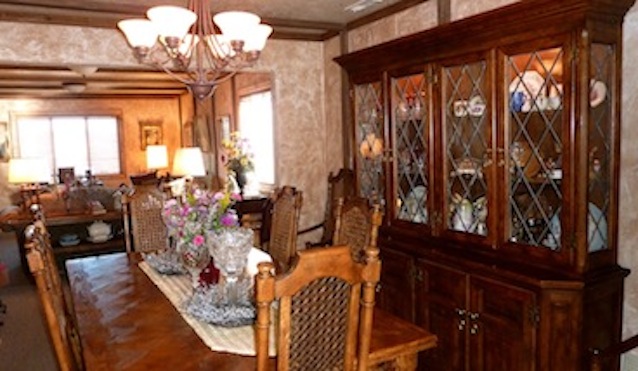 ---