GOLF, CRATER, STEAM TRAIN AND FINE DINING AWAIT YOU.

CALENDAR of LOCAL EVENTS:

Activities of Special Interest: call us at 435-654-7075 for details.

Homestead Golden 15k/5k and Kids Races 2009 May 23, 2009 Midway, Ut.

June 26th 27th 28th
The Heber Valley Pow Wow with American Indian dance, storytellers, arts and crafts and traditional foods as well as the Mountain Man Rendezvous.

June 27th
The Wallsburg Antique Power Show with antique tractors, wagons, motorcycles and other farm machinery in addition to recreated turn-of-the-century village with blacksmith and printers featuring the reconstructed horse –drawn Deadwood stage. Food and fun for all!

June 26, 27, 29, 30 and July 1-2009 is the annual Wasatch Plein Air Paradise Main Art Competition here in Midway (Heber Valley). Art Exhibit, Sale & Paint-outs- July 3&4. In 2009 – WPAP- 7 days, 3 painting competitions, and over $7,400 in total purchase awards, together with the opportunity to sell work at the art exhibit in the Midway Town Hall.

July 29th – Aug 1st is the Wasatch County Fair.

July 31st-August 1st is the Mountain Valley Stampede PRCA Rodeo.

Labor day weekend is our annual Swiss Days and the annual International Sheep Dog competition

On Wednesdays thru the summer there is a Mountain Bike Series in conjunction with Sundance. Call Soldier Hollow for details, 435-654-2002.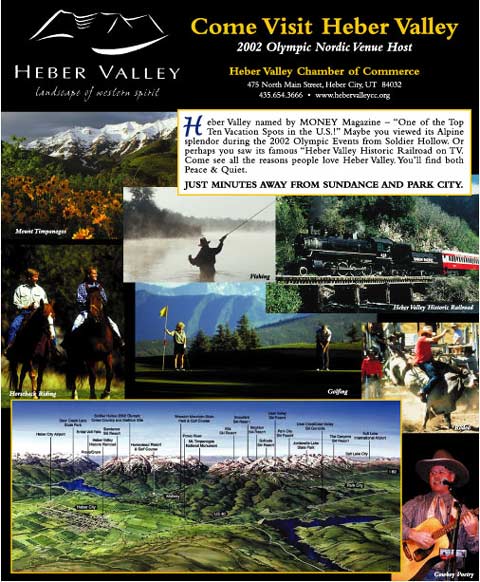 ---